One of the questions that I get asked a lot is about where I got the idea for my book, The Doctor's Mission.  It's a good question since I had been working on suspense up until the inspiration for this book hit.  Let me say first, that most authors have way more ideas bouncing around in our heads than we'll ever get on paper.  So a specific idea has to really grab you before you choose it above all the others.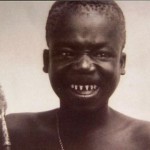 So how did I get the idea?  Am I just fascinated with cannibals?  No, not really.  The idea for The Doctor's Mission literally  walked in my fron door one evening in the guise of a visit from one of my married children.  As kids piled in the door, my daughter handed me a small paperback authored by my son-in-law's great-great uncle.  It had a rather provocative title, Before We Kill and Eat You.    This book, the story of pioneering missionary, H. B. Garlock and his wife Ruth, sat on my dining room table for months before I picked it up and finally read it. 
The story of how God worked in the Liberian jungle with the Garlocks was fascinating, probably because missions have always been my heart.  The subject and the country grabbed hold of me after reading that book, and wouldn't let go.  Before long, I had read what seemed like a library full of Liberian pioneering missionar stories, and names like Bishop William Taylor, Rev. Adolphus Clemens Good, and Miss Amanda Smith became more than familiar to me. 
The more I read of these dear saints on the mission field, one question grew with each page turn.  Could I set a romance here and bring this world to life for readers? 
To be continued….
I'm curious today.  Do you or a family member have any experience with missions?  If you could go anywhere in the world, missions or not, where would it be?