Dear Readers,                                                                                                                                                                                                         
     Book signings are always a lot of fun.  I love meeting readers, so drop by and introduce yourself at one of these fun events.  There's always books, sometimes chocolate, and occasionally the unexpected!   Check back for updates. 
2014 Events
Join me for my 3rd year participating in two fun events at the annual Barbara Vey Reader Appreciation Luncheon
Friday, April 25, 2014, at 6:30 p.m., join us for a FREE, OPEN TO THE PUBLIC, event: Friday Night Live!  This is a fun Q & A session with all of the early arriving authors.  Here's your chance to get all your questions answered and meet some great authors even if you can't come to Saturday's luncheon.  Or get some bonus time before your table time on Saturday!  Same location as the luncheon.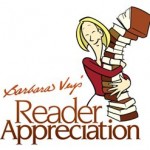 Saturday, April 26, 2014, the Barbara Vey Reader Appreciation Luncheon
Join 40+ authors and Keynote speaker #1 New York Times and USA Today bestselling author Debbie Macomber for food, fun, and swag, lots and lots of swag! Followed by a booksigning for attendees only.
Time: 10:30 a.m.-3:00 p.m.
Where: Crowne Plaza Hotel,Milwaukee Airport
6401 South 13th Street, Milwaukee, WI 53221
Ticket sales already open, sells out fast!
Specify my table on ticket purchase! More information: www.barbaraveyreaders.com